What can be a better treat for Keanu Reeves fans? Finally, the much-awaited Josh Wick Chapter 4 Teaser Trailer is out, and fans are excited to know the release date, storyline, cast, and whatnot. Keanu Reeves is back as John Wick for the fourth time with his action thriller movie. John Wick is one of the classic action movies for the modern age. Although, some critics have expressed concern over the hyper-violence and the feeling of rage expressed in the earlier Chapters of John Wick.
However, we can easily guess that Chapter 4 will be full of action and thrill as this is all the John Wick franchise is about. This article will give you all the details of the John Wick Chapter 4 Teaser Trailer and everything we know so far.
Also Read: The Gray Man Trailer Out: Dhanush's Hollywood Debut Is A Massive One!
What's In The John Wick Chapter 4 Teaser Trailer?
Although, the trailer is not released yet. But the first look of Keanu Reeves from the movie is released today, on 23 July. The teaser has a quick action sequence revealing the first look of Keanu Reeves. John Wick's Chapter 4 Teaser Trailer was released by the official Twitter account of Action Thriller. The plot of John Wick Chapter 4 is unclear; the makers want to keep it a surprise for the audience. But according to the official synopsis, John Wick has leveled up and become Underworld's top assassin. By now, John is receiving the highest prices for head and can't stop himself from a major assassination. Wicks decides to fight against the High Table Globals.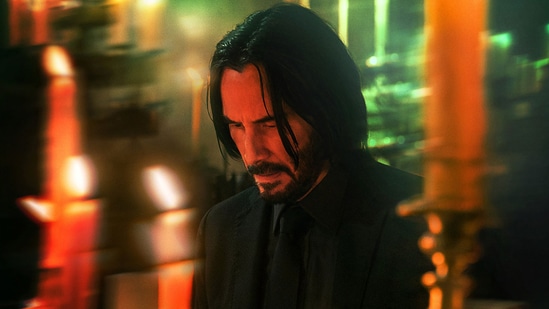 Everything To Know About The John Wick 4!
No doubt Keanu Reeves is making a much greater return with Chapter 4. Now, he is considered the top assassin in the Underworld and has gained a lot of reputation. Lan Mc Shane as the manager of Continental Hotel, while Lance Reddick will return as Charon, the concierge of Continental Hotel. However, some new actors will be joining the cast. The new cast includes Donnie Yen, Rina Sawayama, Shamier Anderson, Hiroyuki Sanada, Bill Skarsgard, Scott Adkins, and Clancy Brown.
Makers of the John Wick Chapter 4 have not announced the release date yet. However, the movie will be premiered in the first half of 2023. However, the exact date and month are still unknown. John Wick's Chapter 4 crew is expected to release a full trailer with the release date by the end of this year.
With the last three chapters, John Wick has grossed more than $590 million worldwide at the box office. So, keep yourself calm as one of the classic action films will soon be premiered in your nearby theatres. The movie may have a double release in the theatres and streaming platform Peacock. All the installments of the John Wick Franchise are already available on Peacock, and we hope that Chapter 4 will also be available soon.